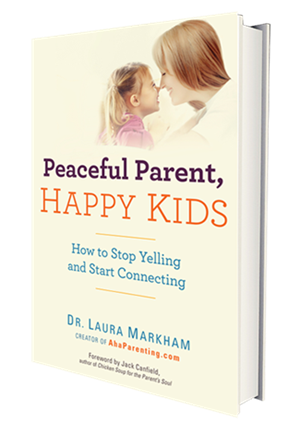 I've been writing and sending free posts to an ever-growing list for years now. But you can only go so deep in an email. So I'm thrilled to have had the chance to write my own book, covering your child's development from babyhood right through the elementary years. Where my daily emails are inspirational "reminders," Peaceful Parent, Happy Kids: How to Stop Yelling and Start Connecting gives parents a real "plan for change." My goal was to give parents access to the best parenting information I could, so naturally Peaceful Parent, Happy Kids is the first book I recommend.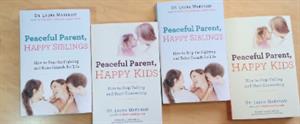 The second book I recommend, to any parent with more than one child, is my second book, Peaceful Parent, Happy Siblings. This book reviews the basics of Peaceful Parenting and helps you apply those ideas to sibling issues. It gives you the tools to teach your children how to work out their differences in healthy ways, and to become friends for life. So if you are only buying one parenting book, I wrote Peaceful Parent, Happy Siblings to be that book.
But I'm still learning every day about how to be a more inspired parent -- and a happier, more loving person. I learn from my two children, now 17 and 21, who have always been my greatest teachers, and from my husband, who received wonderful parenting himself. I learn from every parent I speak with and watch interact with her child. I learn from meditation; from every incident in which I find myself moving out of a state of love and into some other feeling -- and from every time I'm able to notice and shift back.
My ability to understand these lessons, I owe to the brilliance of so many others who have devoted their lives to helping parents be their best selves. They continue to teach and inspire me every time I pick up their books, even when I'm reading their words for the third or fourth time. I truly stand on their shoulders.
Here they are, in alphabetical order by author. There are many wonderful books out there that aren't on this list, so I apologize to those authors I've missed. Some of those books are on individual pages of this website, dealing, for instance, with specific ages or issues. These are the books that have shaped my own thinking in a broader way.
PLEASE NOTE: These books are Amazon links with photos of the books. If you are not seeing them on your page, it may be that your browser is not picking them up. Please try a different browser. Enjoy!