← All Products
The Secret of the Full Cup Workbook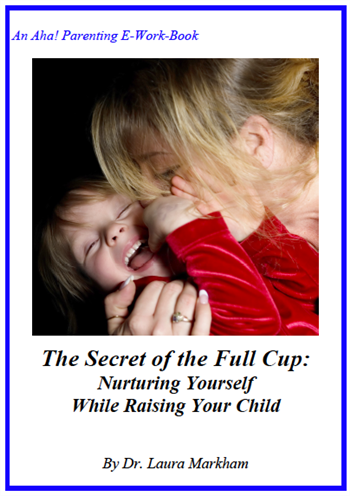 The secret work of adulthood is that we are all still growing up, and parenting forces us to learn to parent ourselves as well as our children. Use this step by step Workbook with guided prompts to get inspired to take better care of yourself. 10 Stress Busting Strategies for Parents, 5 Ways to Nurture Yourself While Nurturing Your Child, How to Transform What's Draining You, & more!
---
We get over-scheduled, stressed out. Meeting our own needs is a challenge. Our kids can even begin to seem like a burden. That's when the joy of having kids becomes elusive, and we find ourselves screaming inside "This isn't what I signed up for!"
But it doesn't have to be that way. It IS possible to reduce the stress in our lives so we can slow down and find more joy in parenting on a daily basis.
Every one of us can get pushed to the limit and go over the edge. Since we're the grown-ups, it's our job to stay away from the edge. And that ability to self-regulate is impossible if we don't take care of ourselves. We aren't doing our children any favors if we don't care for ourselves at the same time that we're caring for our kids.
Want more motivation? You owe it to yourself. Life is too short to spend it feeling stressed and resentful.
We never know how long we have. Ultimately, you're the one responsible for how you spend the life you've been given. On your deathbed, there won't be anyone else to blame if you've been unhappy. The secret work of adulthood is that we are all still growing up, and parenting forces us to learn to parent ourselves as well as our child.
So how can you nurture yourself, when all the hours in the day are already accounted for? This 34 page e-work-book will take you step-by-step through the strategies you need to vanquish stress, put yourself back on the list, and rediscover the joy in parenting.
What Parents are Saying
"Thank you, this E-Book provided me the shift in perspective I needed to make the changes I wished to make and granted me access to gratitude and compassion for myself and my 3 year old and 1.5 year old." - Cara C.
"Thank you for this insightful and extremely helpful E-Work-Book. I printed it out and will find it in times of 'tsunami'." - Stephany T

"Thank you for such a Beautiful expression of the LOVE it takes to raise a child! It's not just a feeling, it's a way of life." - Robin P.

"I could not have needed this more. I printed it out and put it in a notebook so I could fill it out. The workbook questions were really helpful." - Jessica H.

Please note: This is an eBook. Upon purchase, you'll receive an immediate email with a link to download the pdf.
If you buy three audios or ebooks, you will get the fourth one free.

Just choose four audios or ebooks (you can mix and match.) Buy the three with the highest price tag. Then, send an email to administrator@ahaparenting.com, listing the fourth audio or ebook. We will promptly send you a link to download your fourth audio or ebook.
---