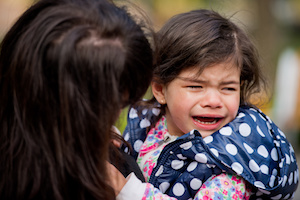 Your toddler is no longer an easily distracted baby. Right on schedule, she's growing up. It's exactly what she's supposed to be doing -- but it means challenges for you!
Toddlers are beginning to experiment with their sense of themselves as powerful people in the world, so they can also be defiant.
Toddlers are determined, so they can also be obstinate.
Toddlers are exuberant, so they can also be impulsive about doing dangerous things.
Toddlers are excited about exploring, so they can also get into lots of trouble faster than you can answer the doorbell.
Toddlers don't have an off switch. When they get tired, they get more and more wound up, until they crash.
Here's how to manage your little maelstrom, so you can enjoy the terrific twos!
---
---
Two year olds like to throw things. They throw when they're happy and they throw when they're upset. They also hit their parents and their siblings. Our job? To help them get through this normal developmental phase by teaching them the difference between what they may and may not do - over and over again - until they learn what they need to learn. How? By accepting their feelings even as we stop and redirect their unacceptable behavior. For example:
"Hold it! Blocks are not for throwing - even when you're angry. Here, you can throw the pillow or the balloon."

"Ouch, that hurt! I can't let you hit me. But you can tell me what you feel. You can say, 'I don't want you to be with the baby now. I want you to be with me!' "

"No shoving! Tell your sister what you want with words, not shoves. Tell her, 'My doll. I'm not ready to share.' "

"The carpet is not for cutting. Let's see, what can you cut? How about this paper? Or this cardboard? Which one? You decide."
-- Elaine Mazlish & Adele Faber