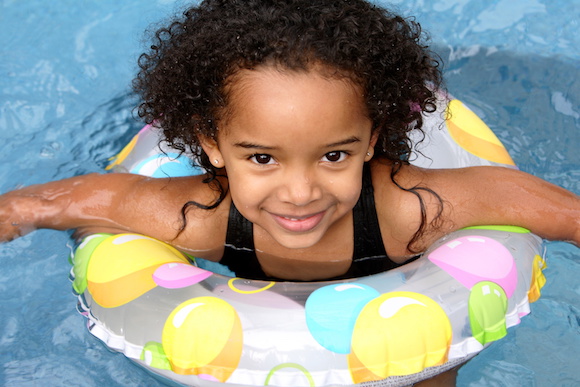 Here are 3 easy ideas for you.
1. Find one simple, fun thing to do with your child every day for the rest of the summer. Nothing fancy -- the point is to relax, forget about your list, and enjoy your child. Just turning off all screens and phones and having you be fully present will make your child's day. It's always fun to take photos you'll treasure, but don't let it keep you from enjoying the moment. Want some ideas?
Run through the sprinkler with your kids.
Take a blanket outside and look at the stars with the whole family.
Play flashlight tag.
Have a water balloon or hose fight.
Draw a hopscotch on the sidewalk and challenge your child. (Let her win.)
Chase fireflies.
Go for a walk in the rain together.
Make a tin foil stream or water wall in your back yard. (Check my Pinterest Outdoor Play board for ideas.)
Make ice cream. (You don't need an ice cream maker, just rock salt and plastic bags; there are recipes online.)
Build a fairy house.
Let the kids stay up late to watch the Perseid meteor shower.
Build a fort.
Fly a kite.
Wash the car with your kids. (Don't forget the water fight.)
Make milkshakes or root beer floats.
Go fishing or crabbing.
Have a picnic dinner and watch the sunset (bring the bug repellent.) Let the kids stay up late playing tag as it gets dark.
Ride your bikes together.
Throw the kids in the car on Saturday and go camping. Go hiking, roast marshmallows, sing songs, snuggle on a blanket and watch the fire together.
Go to bed really early some night when you're tired, and get the kids up for the sunrise. Bring donuts and coffee.
Clear out a back closet or other out of the way place to become a secret hideaway for your child. Stock it with flashlights and fun items to decorate it.
2. Print out all your summer photos. Frame the very best ones, letting your kids choose some for their rooms. Make a Summer album with the rest. Let your child dictate a line or two about each summer experience.
3. Have a little family celebration on the final summer weekend before school starts, where you look at your summer album together and talk about everybody's favorite parts of the summer. Remind each other of the things that seemed like disasters at the time but are now funny (every family has some of those!) If you do this every summer, you'll create precious family heirlooms, not to mention a family tradition that will have your kids bragging about how fantastic summer was in their families….and begging to look at the Summer albums with you every Labor Day, even once they're teenagers.
For more Summer ideas: