Toddler is terrified of having hair washed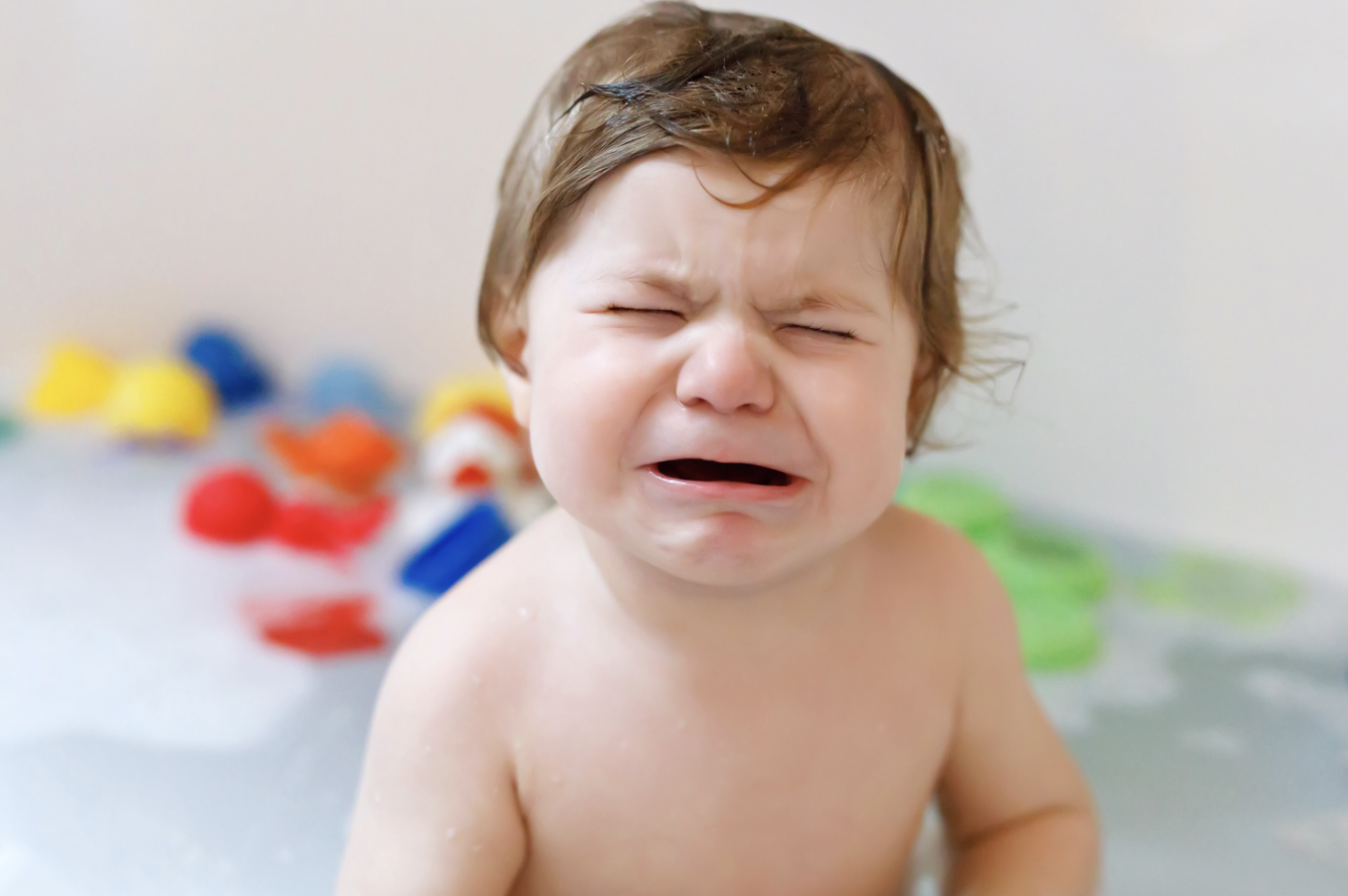 Question
Dr. Laura,
I need some advice on how to help my 2 yr. old not be afraid when he has to get his hair washed. He's never been a fan of having his hair washed (might I add it isn't washed every night), but lately he's been throwing complete tantrums. Before every bath he asks if we are going to wash his hair and if we say "yes" he immediately starts crying. He also holds his breath and sometimes vomits. I've tried everything I know to get him over this, but nothing is working. Bath time has become an extremely stressful time in our house. Any advice would be appreciated!
Answer
It's very common for toddlers to develop fears like this. They usually outgrow it pretty quickly if we can lessen exposure to the feared experience for a bit. Most of us, on the other hand, insist that "there's nothing to be frightened of" and continue to subject the toddler to whatever is making him frightened, which, quite reasonably, prolongs his struggle. After all, in addition to subjecting him to whatever is terrifying him, we're giving him the message that his scary feelings don't matter, and he's all alone to do battle with them. He may well even be perceiving his beloved parents as turning on him.

We have to assume that our child has some reason for his fear. It might not be what we consider a good reason, but it's a reason. (My own daughter was petrified that she would go down the drain with the water.) For many toddlers, the water in their face during hair washes makes them fearful of drowning. Even when we use shampoo that doesn't sting, and give them a washcloth to hold over their eyes, and try very hard to insure the water doesn't go anywhere near their face, they are terrified and react as if it's a life and death matter. Is it? No. But that's how he feels. And since this is so common with toddlers, it may even be a developmental phobia that's healthy. In other words, kids who were more fearful of water were more likely to live to pass on their genes to us, so that trait is in the gene pool.

So my recommendations are to avoid traumatizing him further with hair washes, to give him some control, to give him an opportunity to work out his fears both in and out of the bath, and to make sure he knows you're on his side and he's safe. Specifically,

1. Every bath time when he asks if there will be a hair wash, ask if he wants one. When he says No, tell him ok. Then point out that his hair has some tomato sauce in it (or whatever), and you'd like to get that out with a wet wash cloth. Ask if he'll let you help him with that before he gets into the tub. He can sit on the counter and look in the mirror while you do it, to increase his sense of control and safety. (If he refuses, shrug and make a joke out of it, so that you don't end up in a power struggle. "Good thing you like tomato sauce!") Because little ones don't have oil glands that are as active as older people, you can go quite a long time with this approach.

2. Let him wash your hair. Get in the tub. (Wear your bathing suit if you want.) Make it really fun. Pretend you are scared but keep a twinkle in your eye so he knows you aren't really scared. Your goal is to let him work out with his fears with laughter, as well as to give him a sense of control and the larger view that there is really no danger. So get him laughing and keep doing whatever makes him laugh as you play hair wash reversal. Repeat this as many times as you can as long as he keeps laughing.

3. Play as many games with water as you can, as long as they make your son laugh. Outdoor games with the hose are particularly good, if you live where it's warm enough. Let him wash your hair with the hose. Let him become a hair wash expert.
4. Help him with his fears. You could keep going without ever washing your son's hair, and he would eventually outgrow his fear, and no harm done. However, when children aren't given help with persistent fears, they often pop out in other ways and create rigidity and undermine confidence. So I would recommend that you consider taking this a step further and helping your son tell you about his fears so he can let them go. When humans have a safe witness, they can vent their upsets. This process, of having a safe place so we can fully feel our upsetting feelings, allows those feelings to dissipate instead of staying held in, where they can disable our happiness. Here's how.

After a few weeks of the above play, your son will have released enough anxiety about this to begin to face his hair wash fears more directly. Your goal here is NOT to follow through at this moment with washing his hair, but to give him a chance to express to you the terror he has been feeling all this time while he's had his hair washed, terror that has been so bad it's made him vomit.

To do this, you want to get your son thinking about having his hair washed, but not re-traumatize him by actually washing it, until he is ready to do so. Pick a time when you can start the bath routine an hour earlier than usual, for instance on a weekend. Tell him that tonight you would really like to wash his hair because it is getting pretty dirty. If he agrees, great -- he is over his trauma. All those games and letting him wash your hair paid off!

But almost certainly, he will object and begin to cry. Take him in your arms and empathize: "You don't like having your hair washed. It scares you. When I washed it before, you were so upset and scared. You felt like I didn't listen. I just kept washing. You were so mad and sad." If he cries more, you'll know you're on the right track.

When his crying diminishes, hug him and reassure him that you love him and he is safe with you always. Then tell him that you would still like to wash his hair, and you will make sure he is safe. You will almost certainly have a repeat of the crying. He may also arch his back, seem to be crying without real tears, lash out at you, get hot, and sweat. This is nature's way of helping him release fears. You may worry that you are torturing him, but expressing this fear is actually exactly what he needs to let go of his anxieties. Breathe your way through it and just hold him, if he will let you. (Otherwise stay very close and keep your soothing voice going to stay connected.) Reassure him that you are there keeping him safe and you will always keep him safe.

When you have done as much of this as you can handle, you can ask again if he's ready for his hair wash. If he still says No, you can say, "Sweetie, I do want to wash your hair, but we don't have to do it tonight. We can do it soon, when you're ready. Ok?" He will agree, and you can go on with his bath without the hair wash, knowing that you have done good work. He felt safe enough to trust you with his big feelings, and you showed up in a solid way so that he can go further next time.

If you repeat this (not necessarily every bath time, but when you feel you can summon up the commitment to really listen to him), you will see that his upset is diminishing, as he is getting all his past fears off his chest. Then you want to pick another day when you have sufficient time to really "listen" and up the ante. Tell him that the day has come when you want him to at least get his hair wet, but that he is completely in charge of telling you when to stop and go. You will have another repeat of tears before he even gets in the tub, maybe for an hour, but eventually -- one of these times -- he will agree to get in the tub and get his hair wet. I would suggest that you tell him that to keep him safe, you will get in the tub also this time. This changes the dynamic from those previous times when he felt traumatized, because you are right there holding him.

Sit in the back of the tub, with him in front of you, his back to you. Fill a small plastic cup with warm water and ask him if he wants to be the one to pour it on his hair. If he says no, but begins to cry, hold him. Your goal, remember, is to give him a chance to get out all those feelings that have made him hate having his hair washed all this time. You don't care if his hair gets washed. So let the cup get just close enough so that he cries, while you hold him and tell him that you will always keep him safe. If he has already worked out most of his fears, his tears will be short. If not, they will be long. Eventually, though, he will probably pour the water himself, or let you pour it. Tell him that he can tell you when to start pouring and when to stop. Keep it toward the back of his head. That's it. No hair wash, just a little water at the back of his head.

Celebrate his bravery. It may not seem like much to you that he got the back of his head wet, but he has been brave enough to engage the inner demons that were terrorizing him so much that he vomited. It's a big deal that he has been able to face those fears and withstand him. Like all fears, they melt away when we stand up to them, as they will do now. But that doesn't lesson the courage it took for him to face his terror, or the importance of your support.

The next time, of course, you can take this a step further. Eventually, you will be able to wash his hair with you holding him, with no tears. ALWAYS give him the option of doing it himself, which he may well prefer.

This may sound like an awful lot of work, compared to just holding him down and washing his hair, or letting his hair stay dirty. But of course you don't really like the idea of either of those options, precisely because neither is ultimately good for your son or for your relationship with him.
The reason you're going to all this trouble is that you're laying the foundation for a fantastic and close relationship with him as he gets older, and for him to develop emotional intelligence. By becoming his trusted witness, you're strengthening your relationship with him, and his trust in you. You're helping him to process his fears and move beyond them. So at the end of this process, not only will he be happily washing his hair, but he'll be more cooperative in every way, and able to manage all the normal fears of childhood. That's what I call inspired parenting!

Good luck!
-- Dr. Laura